The Global Natural Disaster Assessment Report 2022, prepared by Yang Saini, a professor at the School of National Security and Emergency Management of BNU, was officially released on UNISDR's PreventionWeb
Article source: | Editor: LU Junlin; SUN Xuming | Release date: 2023-10-23 | Clicks:
On October 13, the Global Natural Disaster Assessment Report 2022 (English version), jointly compiled by Beijing Normal University's Department of Emergency Management - Ministry of Education's Institute for Disaster Reduction and Emergency Management (IDREM), National Institute of Security and Emergency Management (NISEM), National Disaster Reduction Center (NDRCC) of the Ministry of Emergency Management (MEM), and the International Federation of Red Cross and Red Crescent Societies (IFRC), was formally released through the United Nations Disaster Risk Reduction Office's (UNISDR) PreventionWeb.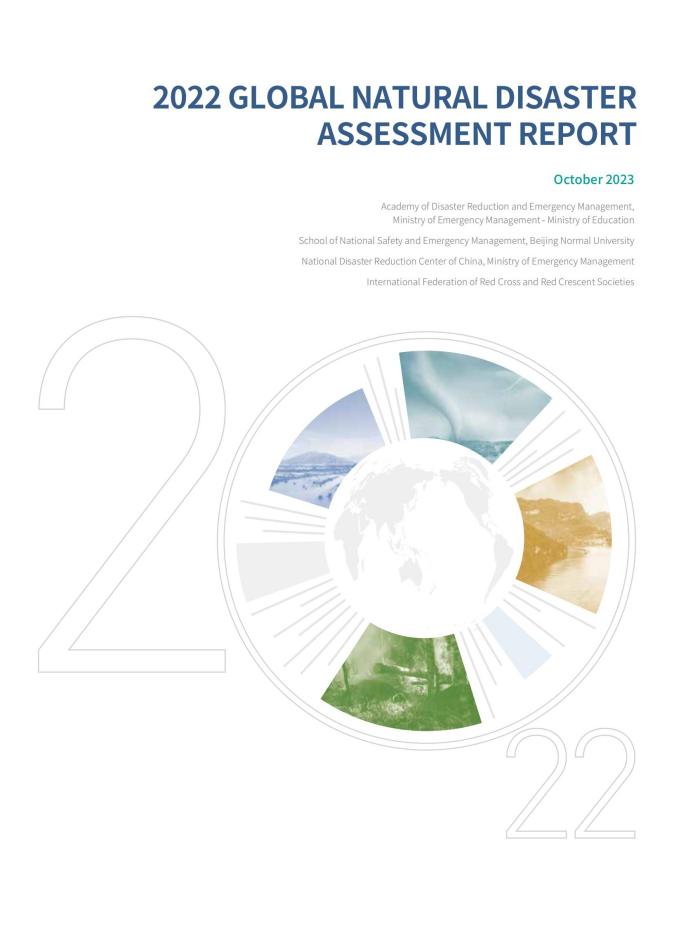 The assessment report is divided into a main report and thematic reports. The main report includes an overview of global natural disasters in 2022, their characteristics and patterns, and China's position in the world in terms of natural disasters, while the three thematic reports respectively focus on China's natural disasters in 2022, the overview of global climatic extremes from 2000 to 2022 and the characteristics of losses, and the compound disaster of high temperatures and droughts in the Yangtze River Basin in 2022. The assessment report shows that, compared with the average of the past 30 years (1992-2021), the level of natural disasters globally in 2022 is generally low, with a 3 percent lower frequency of disasters, 38 percent fewer deaths, 4 percent fewer people affected, and 53 percent more direct economic losses.
The assessment report was led and organized by Yang Saini, professor of National Academy of Security and Emergency Management, Institute of Disaster Reduction and Emergency Management, and State Key Laboratory of Surface Processes and Resource Ecology, with the participation of many parties, and comprehensively utilized the data and information from the Global Catastrophe Database (Chinese version), foreign catastrophe databases (EM-DAT, GDACS, IFRC, etc.), the data of the disaster situation of China's government departments, and the data and information of some insurance companies (Munich Re, Swiss Re, etc.), with support from relevant industry sectors, international agencies, domestic social organizations, universities and research institutes. The report was promoted by mainstream media such as People's Daily and Xinhua Net, and a special report was written by Beijing News and others.
As 2023 marks the midterm review of the United Nations Sendai Framework for Disaster Risk Reduction 2015-2030, an in-depth understanding of China's and the world's natural disasters and the changes in their losses is crucial to promoting the implementation of the International Strategy. This is also the fourth year that our organization has produced such a report, and the series of reports will continue to make a positive contribution to promoting China's natural disaster risk assessment and emergency management efforts, providing the international community with scientific and authoritative data and information on China's disasters, and better serving global disaster prevention, mitigation, and relief efforts.
https://www.preventionweb.net/publication/2022-global-natural-disaster-assessment-report