Qu Zhiyong's Team from the School Of Social Development And Public Policy Published The Latest Research In The Sub-Journal Of The Lancet: Group Intervention By Social Workers Has a Significant Effect On Alleviating Children's Psychological Trauma
Article source: | Release date: 2023-02-17 | Clicks:
A study was published online in The Lancet Regional Health-Western Pacific on February 2, 2023, entitled "Effectiveness of a school-based, lay counselor-delivered Cognitive behavioral therapy for Chinese children with posttraumatic stress symptoms: a randomized controlled trial ". The first author of the paper is Li Jina, whose master degree is majoring in social work and doctoral degree is majoring in public management at Beijing Normal University. She is currently a postdoctoral fellow at the State Key Laboratory of Cognitive Neuroscience and Learning. The corresponding author is Qu Zhiyong from Beijing Normal University.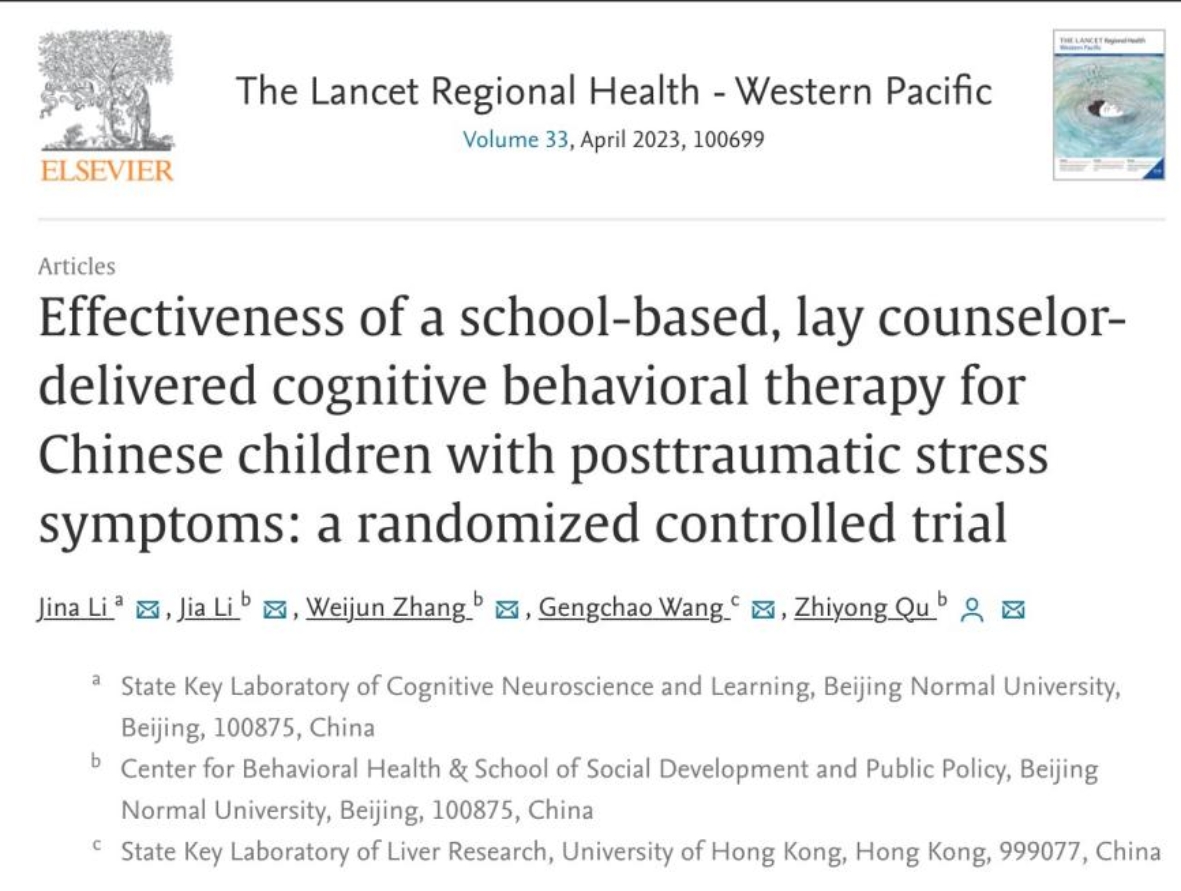 During 2019-2020, this study was conducted as a randomized controlled trial among 234 trauma-affected children from 6 primary schools in Henan Province. After random grouping, 118 children in the intervention group received 2-month PCPI group intervention provided by non-professionals, and 116 children in the control group received routine intervention provided by psychological teachers. Both groups of children completed assessments of the primary outcome variable (PTSD) and secondary outcome variables (depression, generalized anxiety) at baseline, posttest, and 3 months after the intervention. At baseline, there were no significant differences in demographic, clinical-psychological characteristics between intervention and control children.
Research result:
(1) PCPI group intervention can significantly reduce the severity of PTSD, depression and generalized anxiety in Chinese children
Data analysis found that children in the intervention group scored lower on the following symptoms than children in the control group: PTSD-RI-5 PTSD (intervention group 30.98 [17.22] vs control group 39.22 [21.10], P = 0.001), PCL-5 PTSD ( 28.78 [18.36] vs 38.04 [19.62], P = 0.001), depression (5.52 [3.99] vs 7.96 [4.41], P < 0.001) and generalized anxiety (7.23 [4.00] vs 8.64 [4.78], P = 0.02) . At the 3-month follow-up, there were no significant differences in scores between the two groups.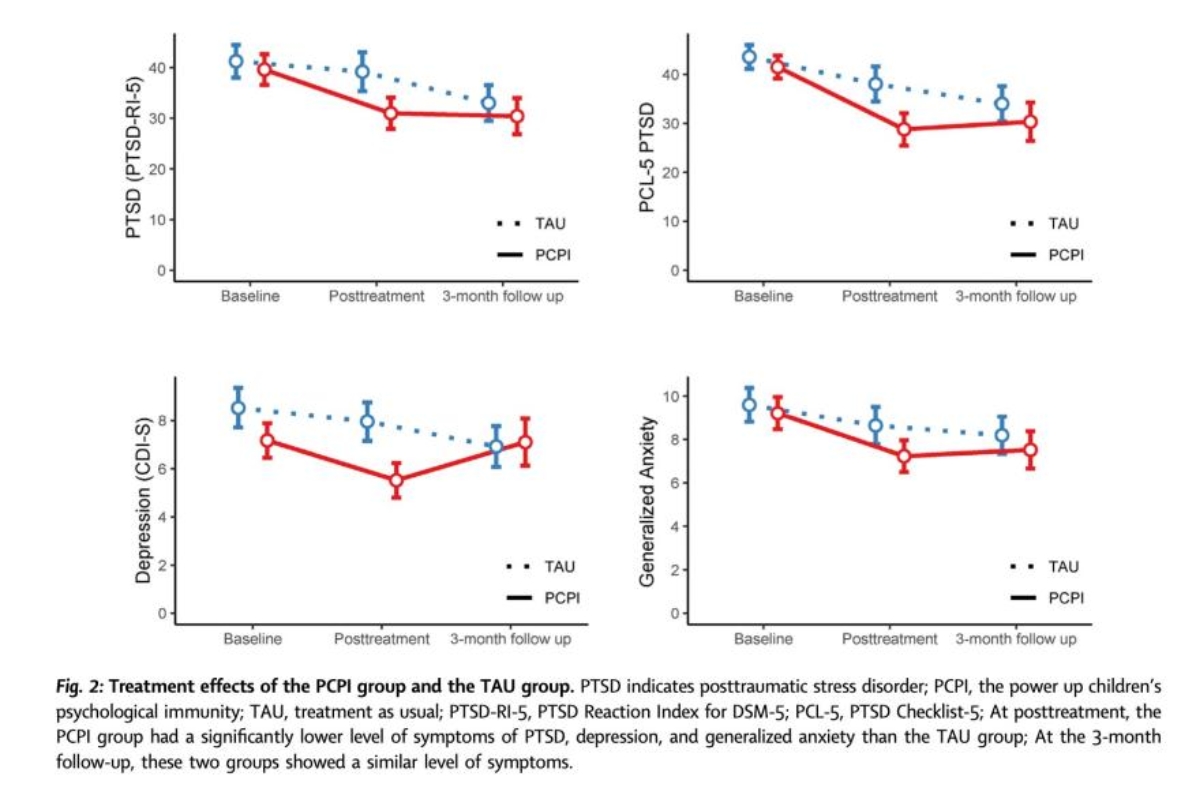 As shown in Table 1, the PCL-5 PTSD remission rate of children in the intervention group was 42.86%, and more children in the intervention group no longer met the diagnostic criteria of PCL-5 PTSD (OR = 0.36, χ2 = 13.10, P < 0.001); The PCL-5 PTSD remission rate of children in the control group was only 13.54%.
(2) Laypersons demonstrate high fidelity in delivering PCPI team interventions
When non-professionals delivered PCPI group interventions, the average content fidelity of all topics was above 80%, and 72% of group activities achieved an excellent level of content fidelity, demonstrating the ability of non-professionals to master the set of interventions program, and carry out PCPI group intervention services for children.
Analysis conclusion: The intervention program (PCPI) developed by the research group for 7 groups (cooperating with about 3 cases) can significantly reduce the severity of psychological trauma in children in my country, and this intervention program is simple and easy to implement, and can be implemented by trained social workers. delivered in a school setting. Of course, its long-term effect needs more research to further verify.
This program helps to improve the accessibility of children's psychological trauma intervention services in my country, provides a new solution to alleviate the psychological distress caused by trauma to children, and provides a basis for exploring the effective supply of children's mental health intervention services in my country. a new way of thinking.
Reference: https://www.sciencedirect.com/science/article/pii/S2666606523000172