Higher learning institution has history of pioneering moves
Article source: China Daily | Author: SONG MENGXING | Release date: 2023-11-18 | Clicks: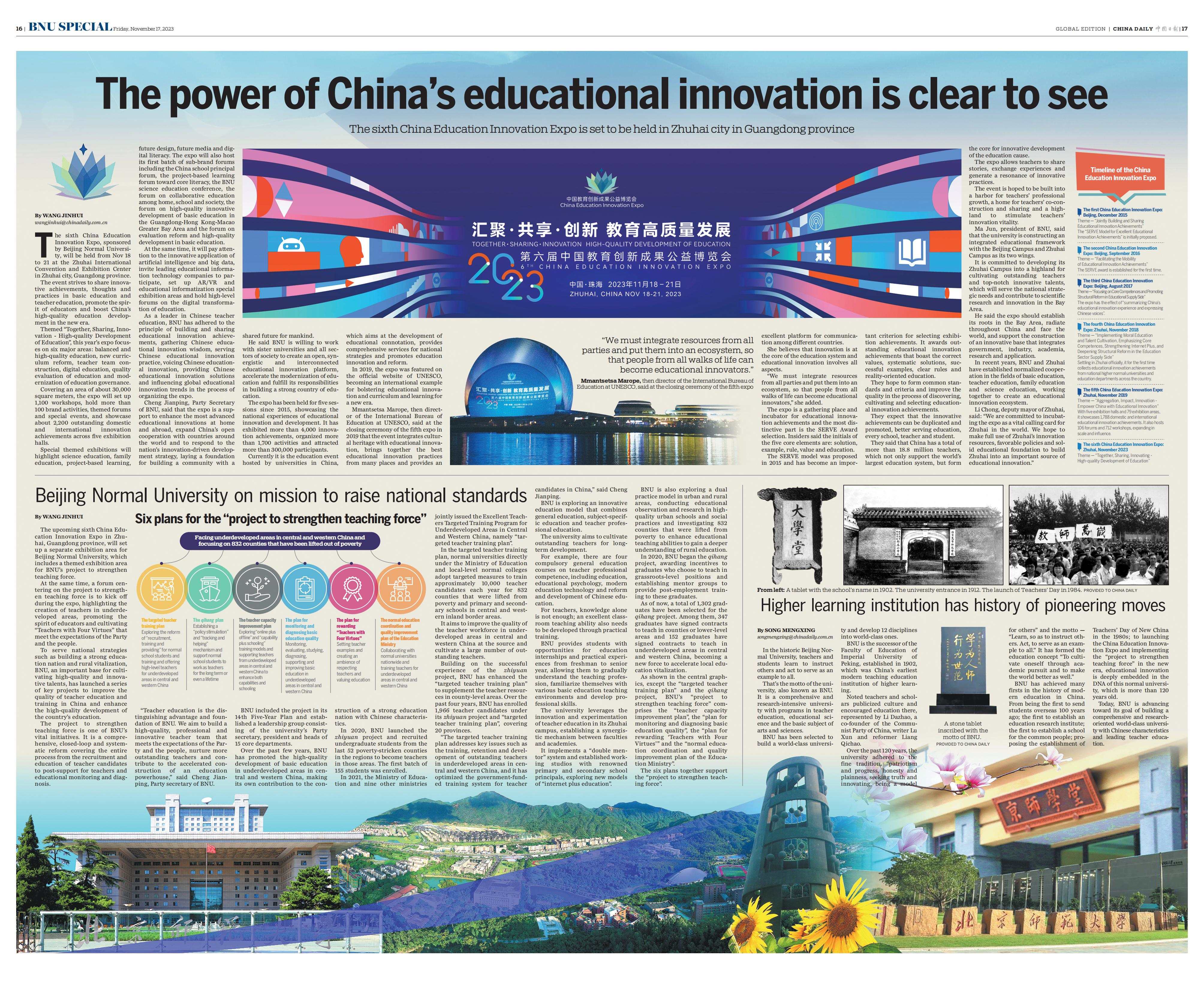 In the historic Beijing Normal University, teachers and students learn to instruct others and act to serve as an example to all.
That's the motto of the university, also known as BNU.It is a comprehensive and research-intensive university with programs in teacher education, educational science and the basic subject of arts and sciences.
BNU has been selected to build a world-class university and develop 12 disciplines into world-class ones.
BNU is the successor of the Faculty of Education of Imperial University of Peking, established in 1902, which was China's earliest modern teaching education institution of higher learning.
Noted teachers and scholars publicized culture and encouraged education there, represented by Li Dazhao, a co-founder of the Communist Party of China, writer Lu Xun and reformer Liang Qichao.
Over the past 120 years, the university adhered to the fine tradition, "patriotism and progress, honesty and plainness, seeking truth and innovating, being a model for others" and the motto — "Learn, so as to instruct others. Act, to serve as an example to all." It has formed the education concept "To cultivate oneself through academic pursuit and to make the world better as well."
BNU has achieved many firsts in the history of modern education in China. From being the first to send students overseas 100 years ago; the first to establish an education research institute; the first to establish a school for the common people; proposing the establishment of Teachers' Day of New China in the 1980s; to launching the China Education Innovation Expo and implementing the "project to strengthen teaching force" in the new era, educational innovation is deeply embedded in the DNA of this normal university, which is more than 120 years old.
Today, BNU is advancing toward its goal of building a comprehensive and research-oriented world-class university with Chinese characteristics and leading teacher education.

From left: A tablet with the school's name in 1902. The university entrance in 1912. The launch of Teachers' Day in 1984.
A stone tablet inscribed with the motto of BNU.
http://epaper.chinadaily.com.cn/a/202311/17/WS6556ba4ea310d4219e3aa1c8.html