The TVET Leadership and Management Benchmarking Programme held
Article source: CIT | Release date: 2023-09-06 | Clicks:
In order to promote the social, economic, educational and cultural development of China and Southeast Asian countries, and deepen the cooperation between the two sides in the field of vocational and technical education and training, workshops for principals of vocational and technical education in China and Southeast Asian countries, a series of the TVET Leadership and Management Benchmarking Programme and training workshops were held in Tianjin and Beijing in China from 14-20 August 2023.
The event was co-sponsored by China Education Association for International Exchange (CEAIE), Beijing Normal University (BNU), Tianjin Municipal Education Commission (TMEC) and Southeast Asian Ministers of Education Organization Regional Centre for Technical Education Development (SEAMEO TED), and executively co-organized by UNESCO Chair on AIED at Beijing Normal University, UNESCO International Research and Training Centre for Rural Education (UNESCO INRULED) and Tianjin Light Industry Vocational Technical College (TLIVTC), which was participated by more than 30 officials from education departments, directors, principals and managers of vocational schools from 8 Southeast Asian countries, namely Brunei Darussalam, Cambodia, Indonesia, Malaysia, Philippines, Singapore, Thailand, Timor-Leste and China, for a 7-day benchmarking programme and consist of field visits, seminars, training workshops and cultural activities.
As a highly anticipated event of the TVET Leadership and Management Benchmarking Programme, the "Training Workshop on Vocational Education and Digital Technology Applications" was held at Beijing Normal University's Changping Campus from August 18th to 19th. The gathering brought together school principals from vocational and technical education institutions in Southeast Asian countries. Hosted by the UNESCO Chair on AI in Education (also referred to as the AIED Chair), the workshop aimed to address the United Nations Sustainable Development Goals in Education (SDG4) by exploring innovative ways to use digital technology for a more effective and flexible TVET system. The Workshop was attended by more than 50 participants from eight Southeast Asian countries, China and beyond. The event included keynote speeches, case presentations, round table discussions, and a call for cooperation initiatives.
In early 2023, Beijing Normal University will establish the AIED Chair to promote research, training, and information sharing of information technology, particularly artificial intelligence, in the education sector. The chair's main objectives include fostering collaboration between Beijing Normal University and distinguished researchers and teaching staff from prestigious universities and institutions worldwide.
Workshop venue for vocational education principals in China and Southeast Asian countries (Beijing)
During the workshop, Beijing Normal University and the SEAMEO TED signed a memorandum of understanding to continue promoting and deepening research, exchanges, and cooperation in the field of vocational education between China and Southeast Asian countries.
During the keynote speech session, scholars and industry experts gathered to discuss the current state and future trends of vocational education. This esteemed platform allowed for valuable insights to be shared on how digital technology can enhance education quality, cater to diverse student needs, and facilitate vocational education transformation.
During the case study presentation, representatives from various enterprises shared insightful case studies that demonstrated the ways digital technology can be employed to advance vocational technical education and training. They highlighted how technologies such as artificial intelligence can be leveraged to enhance learning outcomes and increase employment prospects for students. The use of interactive training and evaluation systems, which utilize ubiquitous multimodal technology, was also discussed as an effective way for students to master professional skills. Furthermore, the group discussed the use of artificial intelligence and virtual simulation to cultivate high-quality skills for skilled personnel.
In a round table discussion, participants gathered to discuss the challenges currently faced by vocational education development in Southeast Asia's digital age. During this discussion, participants identified various issues, including inadequate infrastructure hindering quality teaching, course content that doesn't align with job market needs, and difficulty in finding employment for graduates. The group also noted a shortage of capable teachers and a lack of sufficient opportunities for vocational and technical education and training. To tackle these challenges, participants shared examples of how information and digital technology can be effectively employed to promote the development of vocational and technical education and training.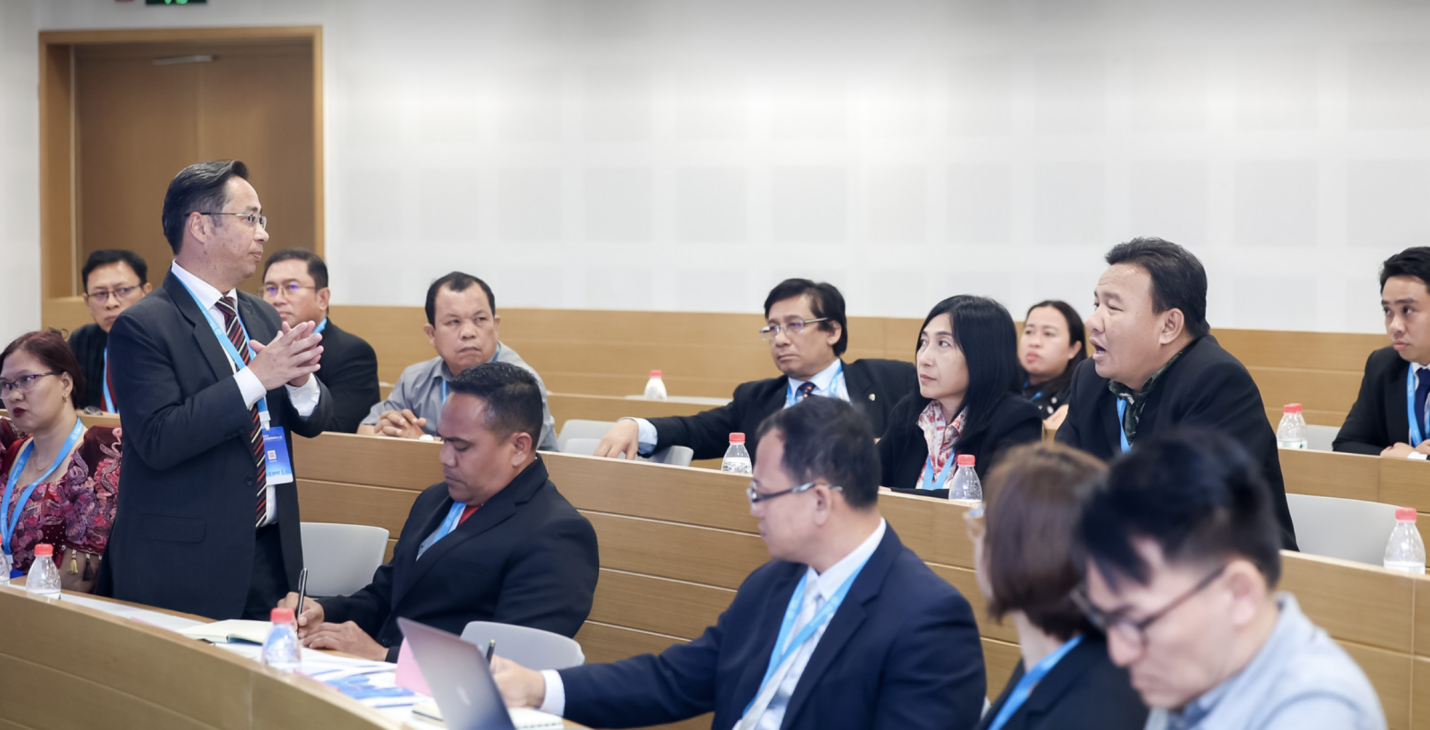 Panel discussion
Upon the conclusion of the workshop, the UNESCO Chair in Artificial Intelligence and Education extended a collaborative invitation to stakeholders from Southeast Asian countries, China, and global vocational and technical education and training. The proposal aims to establish a social experiment community that focuses on AI education applications. The primary objective of this initiative is to explore and research the integration of new technologies in educational scenarios on a global scale. Ultimately, this will lead to an improvement in teaching quality for all students.
Furthermore, the workshop attendees had the opportunity to visit the China Education Association for International Exchange (CEAIE) and participate in the Global Smart Education Conference (GSE 2023). Some representatives also had the privilege of presenting at the conference. It is reflected that this event played a critical role in fostering educational and cultural exchanges between China and Southeast Asian countries, which also laid the groundwork for future cooperation, innovation, and development in vocational education between both parties.