Finals of the 5th Global Competition on Design for Future Education Held at BNU
Article source: Smart Learning Institute | Release date: 2022-07-27 | Clicks:
During July 22nd-24th, 2022 (GMT+8), finals of the 5th Global Competition on Design for Future Education was successfully held in Beijing, jointly organized by Beijing Normal University (BNU) and UNESCO Institute for Information Technologies in Education (UNESCO IITE). With themes of AI and Education, Metaverse and Education, Rural Education and Inclusive Education, the competition is divided into two categories, for college students and for primary and secondary school teachers via cloud design and interschool cooperation.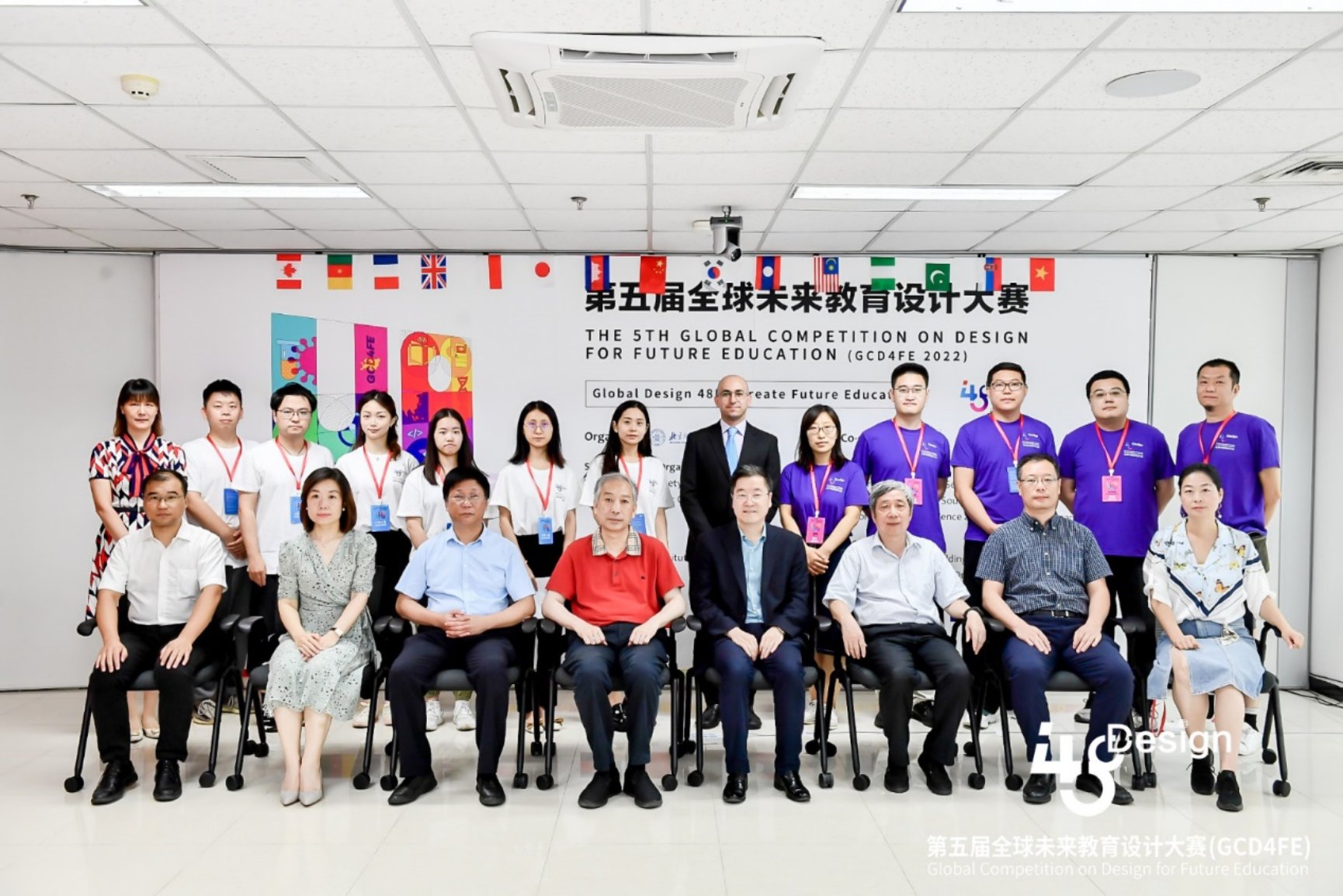 Group Photo of the Opening Ceremony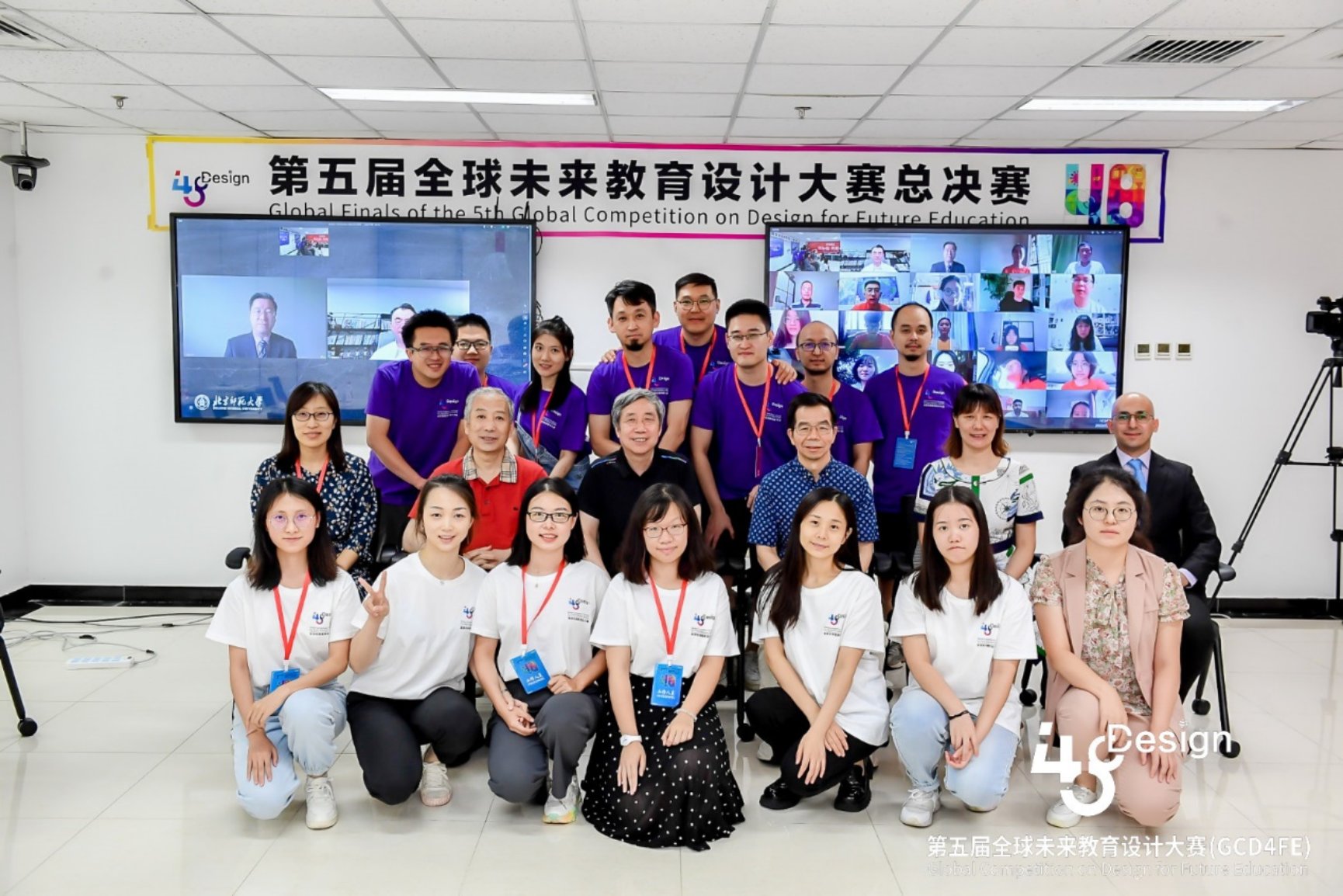 Group Photo of the Closing Ceremony
Mr. Zuoyu Zhou, Vice President of Beijing Normal University expressed that as part of the celebration for BNU's 120th anniversary, the competition was to encourage teachers and students around the world to solve the key points in education using emerging technologies like AI and metaverse, contributing to the sustainable development of education. He hoped participants would continue paying attention to the realistic issues in education, stay committed to innovative spirit and design thinking when solving the difficulties, and integrate cross-cultural communication into teaching and learning process, ultimately promoting the development of future education.

Mr. Tao Zhan, Director of UNESCO IITE congratulated the winners and praised their brilliant innovation and cooperation. He also spoke highly of BNU and NetDragon's contributions to transforming education through smart technologies. As partners of UNESCO IITE, BNU and NetDragon have been working with IITE in different fields, building bridges with universities worldwide to promote the advancement of future education.
Mr. Taek-Dong Yeo, Vice President of Yeungnam University, spoke highly of BNU's contributions to talent cultivation. As one of the partners, Yeungnam University plays an active part in the promotion of the competition. He also expressed his anticipation of more innovative designs targeting educational needs in realities this year.
Mr. Weizu Song, Founder of Beijing Design Society and Deputy Director of the Central Cultural Committee of the China Democratic League pointed out that under the context of intellectualization, this competition successfully promoted the cross-border integration of design and education. As one of special support organizations, Beijing Design Society has played a part in this competition for five consecutive years, providing full support in planning and implementation. He hoped that this would motivate teachers and students to come up with more creative ideas, ultimately promoting deeper integration of education and design.
During the 48H Global Finals, Mr. Guangju Chen, Vice Director of School Affairs Committee of Beijing Normal University, together with 15 mentors from universities and enterprises, provided timely help and guidance for participants online.
Mr. Dejian Liu, Co-Dean of Smart Learning Institute of BNU and Chairman of NetDragon Websoft Inc., and Mr. Weizu Song, Deputy Director of the Central Cultural Committee of the China Democratic League announced the results as the Chief Judges. In the competition for teacher, 10 teams won the First Prize, 24 teams won the Second Prize and 43 teams won the Third Prize. In the competition for student, 6 teams won the Gold, Silver and Bronze Prize in total, and 9 teams won the Outstanding Prize. Mr. Liu congratulated the winners, hoping that as one of the competition sponsors, NetDragon could help the competition in making more contributions to future education apart from the training and guidance sessions.
Mr. Xiewei Song, Dean of the School of Design at Central Academy of Fine Arts analyzed the advantages of art therapy in education with examples from the perspective of the development of fine arts, music, etc. He spoke highly of the projects related to arts, for their practical meaning and contributions to future education. Mr. Oleg Akimov, Programme Specialist of UNESCO IITE praised the participants for their innovative topics, and pointed out they should pay more attention to the integration of teaching practice and AI education or inclusive education, as only by meeting the realistic needs can we make a real difference. He emphasized that international organizations and universities should develop more extensive research collaborations among students worldwide. Mr. Jianguo Shi, Vice President of China Education Equipment Research Institute pointed out teachers should strengthen problem awareness, focus on realistic needs and apply design thinking when doing case-studies. In addition, their case-studies should show explicit the design process. Ms. Su Wang, Director of National Institute of Education Sciences stressed that teachers need to be guided by theories in educational design, exploring promotive patterns.
Mr. Ronghuai Huang, Co-Dean of Smart Learning Institute of BNU pointed out that the competition had experienced great changes in its scope, rules and outcomes over the past five years. In 2020-2022, due to the Covid-19 pandemic, the competition was held online. Meanwhile, participants managed to complete their projects through cooperation online, during which their spirit of collaboration and persistence was highly impressive.
Prof. Ronghuai Huang said the competition in the future would focus on global education. On one hand, it will encourage more designs for future education from the perspective of college students worldwide and attract more talents to participate. On the other hand, the range of participants in the competition for teacher will be expanded in hopes of more case-studies, so as to provide more valuable solutions for teaching practice and promote the advancement of future education.
Since March 7th, the competition has attracted over 1000 college students from nearly 20 regions and countries and more than 500 teachers of primary and secondary school. They came up with many excellent projects and replicable case-studies. This competition is hosted by Smart Learning Institute of BNU, with Beijing Design Society and Beijing Design Week Organizing Committee Office as special support organizations. The competition cannot be made a success without the participation of a number of universities, R&D institutes and student groups from home and abroad, the support of NetDragon Websoft Inc. and EEO Empower Education Online, and the guidance from Alibaba Cloud, Tencent Cloud and Huawei Cyberverse, etc. Moreover, Senior Professor Mingyuan Gu at Beijing Normal University and Professor Guanzhong Liu of Academy of Arts & Design at Tsinghua University served as the General Advisor for this competition.