Shi Jia: an anti-doping chaperone's glory in the routine
Article source: School of Foreign Languages and Literature | Release date: 2022-02-17 | Clicks:
Editor's note: The translators WU Qi and RAO An are students of School of Foreign Languages and Literature of Beijing Normal University.
Source: Beijing 2022 Winter Olympics Organizing Committee
Shi Jia in front of the volunteer picture wall of the National Indoor Stadium
Shi Jia, from Beijing Normal University, has been dreaming of dedicating himself to sports for a long time. Being an athlete of the track team in high school and a student majoring in physical education at BNU, he aspires to work in the field of sports in future. He is now volunteering for the Beijing Winter Olympics as a chaperone in the National Indoor Stadium.
Shi Jia's team is responsible for doping tests on ice hockey players in the National Indoor Stadium. It is much for him to take a voluntary position under such pressure and responsibility. "As chaperones, after getting a task in hand, we need to notify the athlete of the doping test, and we must lead and accompany him or her till the end of the test. This task requires us to have direct contact with the athletes, which is highly demanding of skills and competence," said Shi Jia. Volunteers are expected to possess some basic virtues including meticulousness, patience and friendliness. Besides, it challenges Shi Jia's English speaking and expression ability on account of his daily communication with the athletes. Therefore, after being a volunteer in the Beijing Winter Olympics, he has been practising oral English and expanding specialized vocabulary for preparation.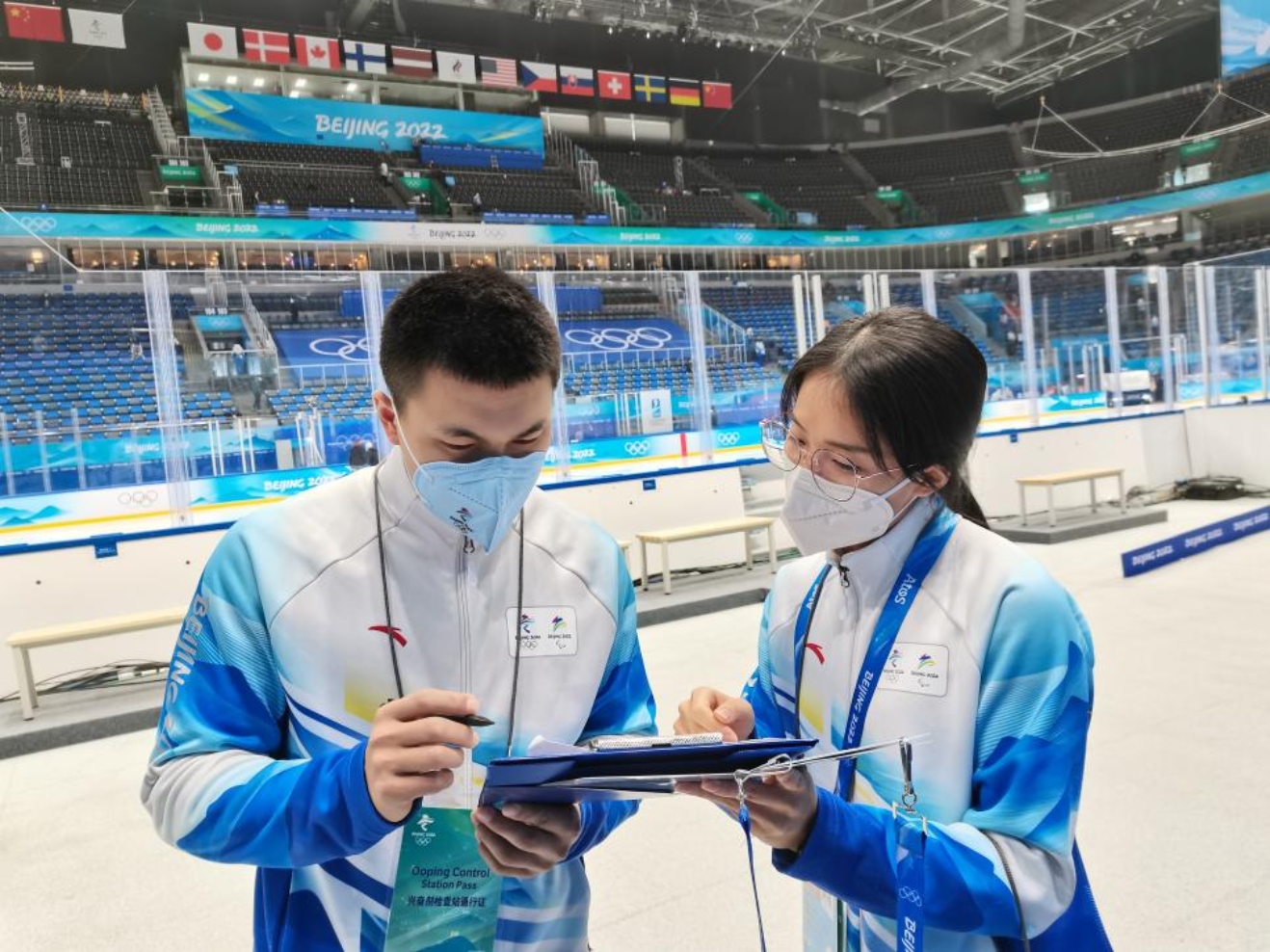 Shi Jia (left) rehearses the testing process repeatedly with his partner
Compared with other tasks, anti-doping tests are generally after the competition. When there is no competition, volunteers rehearse the process repeatedly. Shi Jia said, "Under the guidance of the testing manager and the chaperone supervisor, we have learned the relevant professional knowledge and skills of the chaperones in-depth, and get to know well the routes to different venues, in order to ensure 'zero mistakes' in our work. Our anti-doping testing work is special with the need to be on standby for the task at any time. From the very beginning, all my teammates have always been sticking to their posts." During their work, Shi Jia and his teammates have deepened their background knowledge of doping testing and related responsibilities, and rehearsed the whole notification process 3 to 5 times a day. In addition, the Doping Control Officer timely informs the volunteers of the "abnormal situation", allowing them to handle it for practice. The whole process of a doping test, from informing the athletes to accompanying them to the Doping Control Station, lasts less than 30 minutes, but the preliminary preparation often takes 3 to 4 hours, especially the evening competition. It is late at night after all testing tasks are completed.
Although the repeated daily simulation training is monotonous, every team member never treats it rashly. Shi Jia knows well that "extensive preparation eventually pays off". The day before the 2022 Winter Olympics opening ceremony, Shi Jia and his teammates completed their first mission as chaperones on testing the women's ice hockey players for doping who had just finished the competition. "Since we were well-prepared in advance, the doping test was a success that day. Later we reviewed the experiences that could be learned and weaknesses that should be addressed, preparing for the next task." In addition, Shi Jia bears the responsibility for "notification" in the anti-doping volunteer team. He takes charge of the commuting, arranging the shuttle bus from the venues to the hotel and informing everyone to be on the bus in time.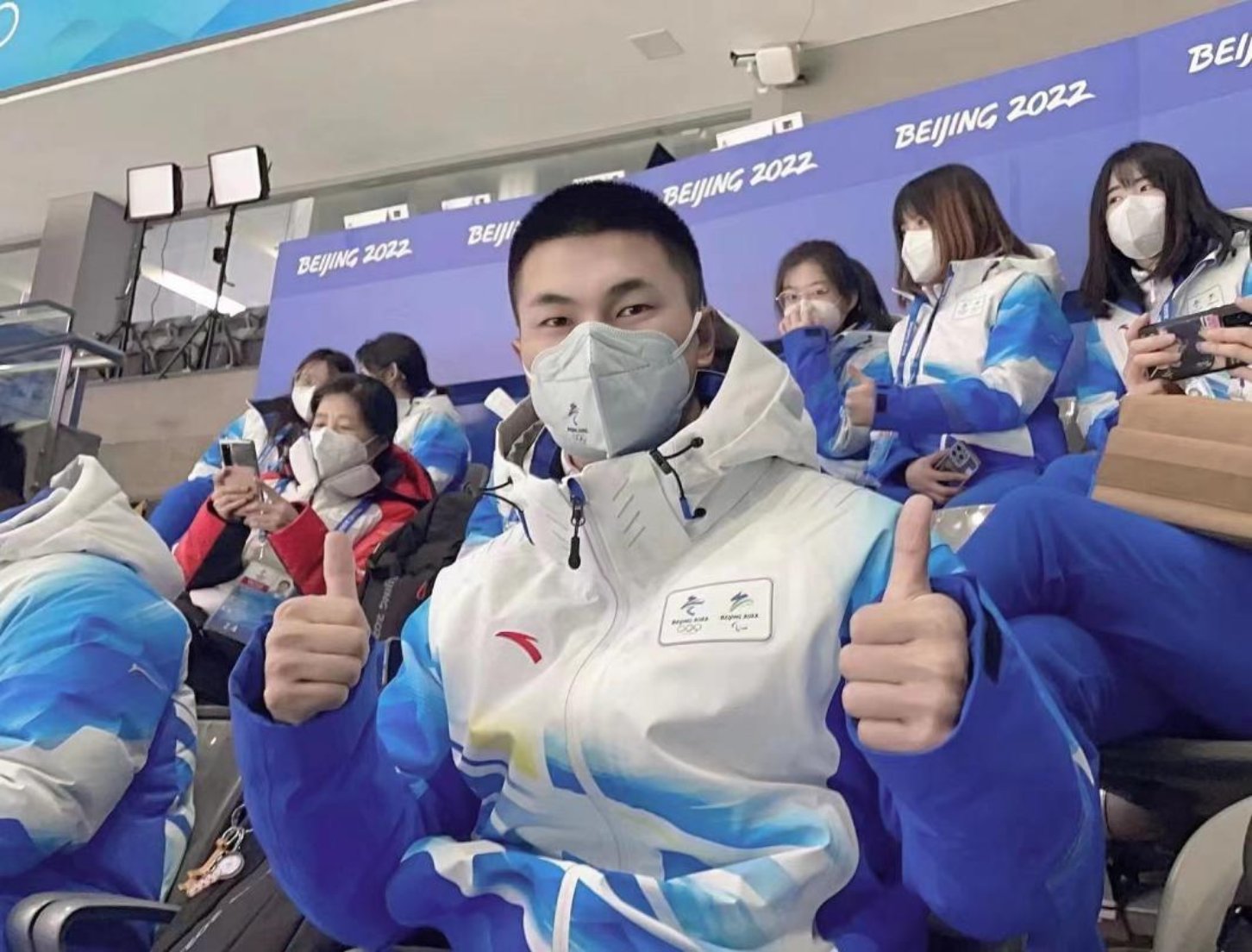 Shi Jia is ready to be a chaperone 24/7
As a college student majoring in physical education, Shi Jia believes he has a deeper understanding and appreciation of sports, then more confident in talking with the athletes. Shi Jia also had a special experience of performing his compulsory military service, after entering BNU. He applied to be a volunteer for the Winter Olympics during his service. Although he missed the first batch of volunteer selection after he returned from the army, he managed to fulfil his dream as a volunteer through hard work.
During the sports training, his strong will and fighting spirits have been honed, and these qualities have been much more refined during the army service, where he learned that collective interests are above everything else. "A volunteer has no difference from a soldier fighting for our motherland. Everything I do and every word I say stand for Chinese youth. I will practice and stick to my belief even after the discharge from the army, which will be my long-term pursuit," Shi Jia said.
Shi Jia said, "As Chinese youth of the new era, we volunteers have the responsibility and obligation to devote our youthful power to the Winter Olympic Games. In the army, 'glory lies in the routine and hardship in eternity' is often used to describe the military life, which is the same for the volunteers who cast their bread upon the waters for the successful holding of the Winter Olympics. We will meet every oncoming task with great passion and high spirits."
https://proapi.jingjiribao.cn/detail.html?id=389386