[Opinion]The New Vision for Belt and Road
Article source: Chinatoday; Belt and Road School | Author: HU Biliang | Release date: 2021-11-29 | Clicks:
Compared with eight years ago, when the Belt and Road Initiative (BRI) was first proposed, the current international landscape has greatly changed with both favorable and unfavorable factors popping up for cooperation on the initiative. More and more countries are now supporting and participating the vision. It is estimated that nearly 80 percent of the countries that have diplomatic relations with China have joined in. As of July 2021, 140 countries and 32 international organizations have become participants in the initiative, which has become truly global, spanning Asia, Europe, Africa, and South America.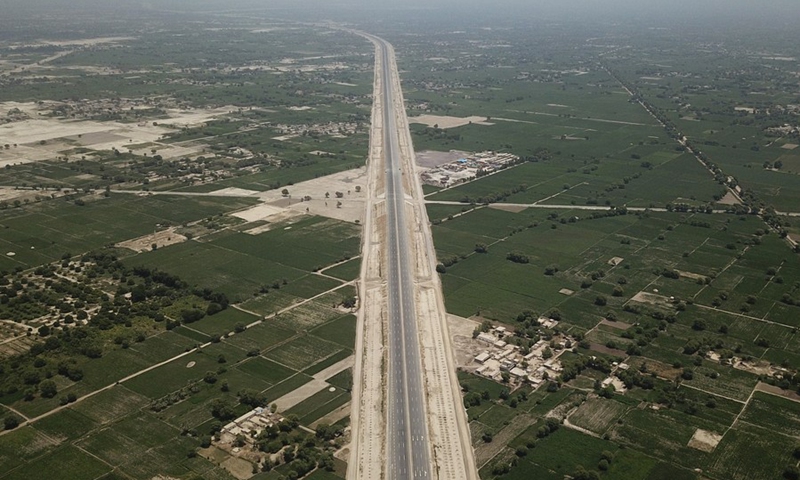 Arial photo taken on Aug. 5, 2019 shows the view of Sukkur-Multan Motorway in central Pakistan's Multan. The construction of the 392-km Sukkur-Multan Motorway under the China-Pakistan Economic Corridor (CPEC) has been completed. (Photo: Xinhua)
At the same time, the global situation has also become more complex. The new round of science and technology revolution has intensified competition among countries. There are also the fallouts of climate change and the COVID-19 pandemic. The pandemic caused some Belt and Road projects to be halted for a time, and climate change issues mean some areas of the initiative have to be adjusted, which will need extra time and effort. In addition, some Western forces' have spared no effort to stigmatize the BRI, which has actually blocked the advancement of the initiative abroad to some extent.
At home in China, there have been sweeping changes as well. China has been able to eradicate absolute poverty and grow its economy despite the disruptions caused by the pandemic. Now, it is switching to a new growth model where domestic consumption is the main driving force of the economy while the GDP growth rate is being decelerated to make it stable and sustainable. In addition, China has made a commitment to achieve peak carbon use by 2030 and achieve carbon neutrality by 2060, while not building any more new coal-fired projects abroad, which means extensive modifications in policies.
At the third symposium on the development of the Belt and Road Initiative in Beijing on November 19, President Xi Jinping addressed the concerns about how to continue high-quality development of the Belt and Road Initiative in the face of such changes at home and abroad, and outlined a new development vision based on deepening political mutual trust and policy dialogue.
Future Direction
The future direction of the Belt and Road Initiative will focus on the following pragmatic aspects. Connectivity will be a key thrust area. A better connectivity network should be created, spanning land, sea and air transport as well as cyberspace. There should be cooperation in both traditional and new infrastructure, and rules and standards should be better aligned among participating countries.
Trade remains a pillar of cooperation. Xi emphasized the need for unimpeded trade, especially expanded trade with neighboring countries with liberalization and facilitation of investment. Cooperation in three-party or multiparty markets and on production capacity should be expanded. Multilateral development agencies and financial institutions from developed nations should be encouraged to participate.
Greater efforts should be made to ensure stable industry and supply chains and promote the diversification of sources. With growing digitization, digital cooperation among countries along the BRI routes needs to be strengthened and models should be developed for that. Silk Road e-commerce should be scaled up, along with international cooperation in intellectual property rights protection. And finally, in this regard, Chinese companies are encouraging to take more social responsibilities in their overseas host countries, contributing more to local development, while complying with local laws and regulations.
Xi also outlined new areas of cooperation and new growth points. Despite the challenges and uncertainties, there are also new demands for international cooperation. There is a great need to unite in fighting the pandemic, in environmental protection, and in green and low-carbon development. Besides, with digital technologies more widely used in a post-epidemic world, international cooperation in this regard is becoming more urgent.
China is supporting other developing nations to access COVID-19 vaccines and build up their healthcare systems. It is also assisting them to transition to clean energy and green development, promoting capacity building in low-carbon development. And it is also pressing for cooperation in climate governance to make it equitable.
Risk Prevention and Control
Strengthening risk prevention and control across the board will be a priority in the new development vision. Domestically, China must build an all-weather early warning and evaluation service platform that can detect potential risks for its overseas BRI programs on a regular basis and issue risk warning and evaluation.
There should be greater coordination in the mechanisms for the protection of China's overseas interests, international counterterrorism and security. In addition, a sound system of laws and regulations should be developed to crack down on corruption overseas and better investigate cross-border corruption.
The Belt and Road Initiative was created to serve the people. Therefore it should step up cultural exchanges to strengthen people-to-people links. At the same time, it should create more projects to improve the livelihoods of people living in Belt and Road countries so that they have a greater sense of fulfillment.
China will make an overall plan to build new cooperation areas and for risk prevention and controls. The ultimate goal is for the Belt and Road Initiative to contribute to realizing the Chinese dream of national rejuvenation and building a community with a shared future for mankind.
HU BILIANG is executive dean of the Belt and Road School of Beijing Normal University.
http://www.chinatoday.com.cn/ctenglish/2018/zdtj/202111/t20211127_800264462.html