Pixel BNU:Back to campus in the game
Article source: Department of Student Affairs | Editor: Qi Yu | Release date: 2020-10-13 | Clicks:
Pixel BNU is a project made by BNU students. In this project they reconstructed the campus as whole within Minecraft. Minecraft is one of the most popular sandbox games in the world, in which players explore a 3D world with infinite terrain, and use raw materials, craft tools to build structures or earthworks.

This project would be the gift from the students to the 120th anniversary of BNU. BNU students, faculty members and alumni would be able to visit this virtual campus.
This project was initiated by Si Haiyang, 2nd year student of College of Chemistry in March this year. Together with Hu Xinyi, 1st year student of School of Artificial Intelligence and Zhao Weijian, 1st year student of College of Chemistry.
"Faithfully represent the campus view" is Si Haiyang' s intention and other members' motivation.
At present all the main roads in the campus have been basically finished, as well as students dormitories, teaching buildings, west sports field and Jingshi square, though the details need to be checked. Meanwhile the research team has already made some group activities within Minecraft.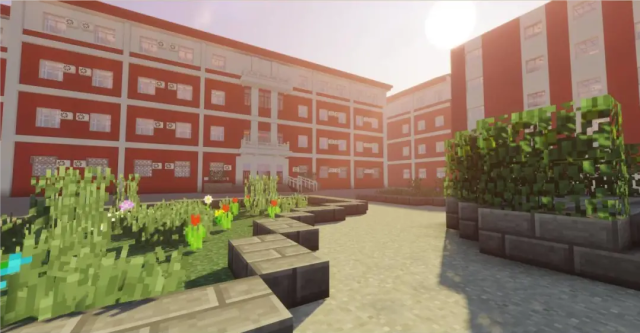 Hu Xinyi says, in the future the whole virtual campus would be there for everyone to explore. If someone has interested in BNU, he can jump into this virtual world and there maybe surprises at the corners waiting for him to discover. It would be a perfect opportunity for everyone to know this beautiful university.