Mo Yan International Writing Centre Is Inaugurated at Oxford University
Article source: Office of International Exchange and Cooperation | Release date 2019-06-18
Upon the invitation of Regent's College of University of Oxford, Professor Mo Yan, Director of the BNU International Writing Centre, and Guo Changbao, Dean of the BNU School of Chinese Language and Literature, led a delegation of eight people to start an academic visit to Oxford University.
On June 12, local time, Regent's College of Oxford University held a ceremony, in which Rob Ellis, Principal of Regent's College, awarded the title of Honorary Fellowship to Mo Yan, Nobel Laureate in literature. On the same day, Mo Yan International Writing Centre was inaugurated at Oxford University. Mo Yan was appointed as Director of International Writing Centre of Oxford University and Yu Hua and Su Tong, two other professors of BNU, as resident writers. It's Oxford University's first research centre named after a Chinese writer. Giving Mo Yan the title is not only an affirmation of Mo Yan's literary attainments, but also one of the important achievements of cooperation between University of Oxford and Beijing Normal University in recent years. With the establishment of the International Writing Centre at Oxford, BNU and Oxford will carry out broader cooperation in future academic exchanges and talent training.
On June 11, the delegation visited the Bodleian Library of Oxford and had a cordial meeting with Curator Richard Ovenden. Mamtimyn Sunuodula, an alumnus and a 1985 psychology graduate of BNU, and head of the East Asian Literature and Heritage Department of Bodleian Library, introduced the delegation to the history of Bodleian Library and its relationship with China, presenting Chinese books and precious documents in the library collection. Mo Yan, Yu Hua and Su Tong donated their works to the library.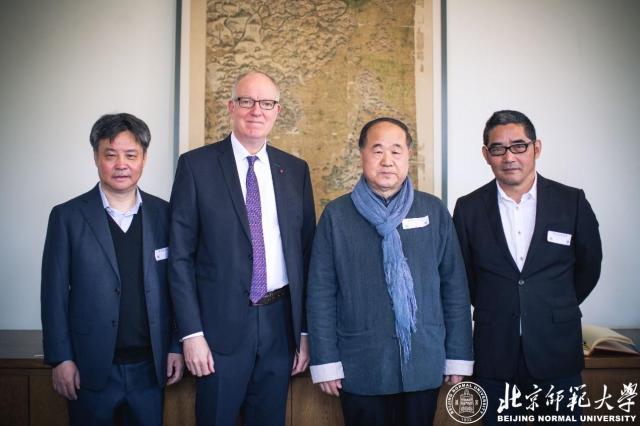 On June 13, the academic symposium "Finding the Right words" was held at Oxford. Mo Yan, Yu Hua and Su Tong met with faculties and students of Oxford for the first time as writers of the "Mo Yan International Writing Centre". More than 300 Chinese and foreign audiences participated in the exchange meeting, which was presided over by Boyd Tokin, a famous British writer, journalist and essayist. At the beginning of the meeting, Mo Yan gave a speech on the theme of "Finding the Right words". Mo Yan believed that in the rapidly developing Internet era, although the way to acquire general knowledge is simple and fast, writing will not be replaced by computer or network intelligence for the time being. And an author must have deep learning and accomplishments, the spirit of continuous improvement, and concern for society and life in order to write good literary works about human richness and human greatness and insignificance. Later, the writers Yu Hua and Su Tong respectively delivered keynote speeches on "the language of accidental amusement" and "words: starting from the narration of short stories". The three writers' witty remarks drew favorable responses from the faculties and students present.
On June 14, the delegation paid an official visit to the British Library. The three writers presented their own works to the library and recorded excerpts of their works as readers, which would be released in the official media of the British Library to publicize the literary works of Chinese writers.
Regent's Park College of Oxford University, founded in 1810, is one of the six "permanent private colleges" of Oxford. Beijing Normal University and Regent's Park College have carried out cooperation in university-level exchange of students, visiting scholars, and full-time counselors, as well as "Looking China" Project. In March 2019, the BNU School of Chinese Language and Literature and Regent's Park College formally signed a cooperation agreement. This visit, as one of the important achievements of the cooperation between the two universities, laid a solid foundation for further cooperation in academic exchange, talent training, etc.