[Webinar] China Celebration of the International Day of Education 2021
Article source: Office of International Exchange and Cooperation | Release date: 2021-01-19 | Clicks: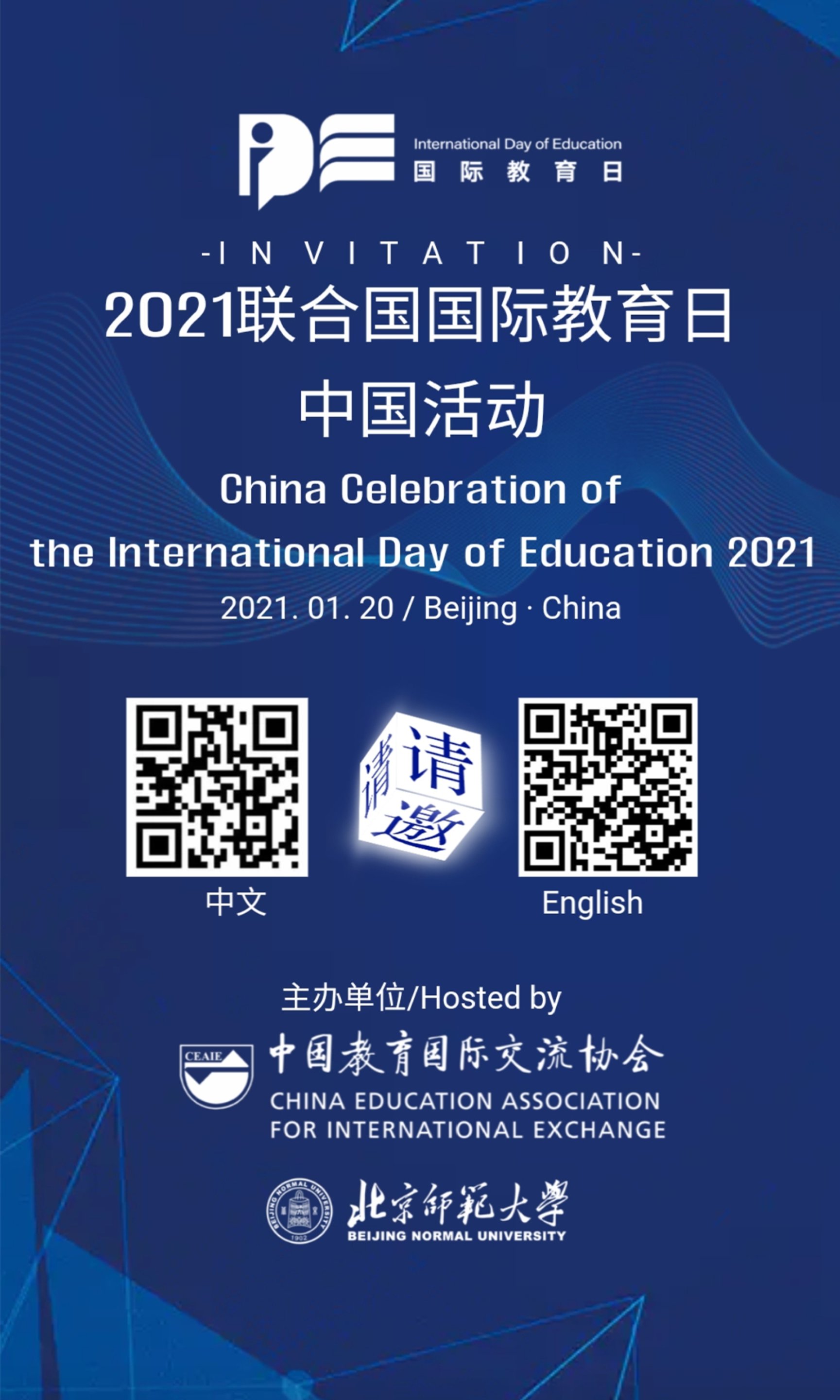 活动介绍
Introduction
为响应联合国大会"国际教育日"决议精神,推动教育助力全球和平与可持续发展议程目标的实现,中国教育国际交流协会和北京师范大学将于2021年1月20日联合主办"2021联合国国际教育日-中国活动"。
本次活动将邀请来自联合国、教科文组织、政府、驻华使节、教育机构、社会团体、教育界优秀代表、企业界人士以及众多国内外教育工作者共聚一堂,相互学习教育的成功经验与方案,后疫情时代实现有质量的教育公平和可持续发展的思考,为推进2030教育目标的早日实现和携手共建全球教育共同体做出新的贡献。
The General Assembly of the United Nations adopted Resolution 73/25 on December 3, 2018, encouraging all Member States, organizations of the United Nations system, other international and regional organizations and civil society organizations to celebrate the critical role of education in peace and development on International Day of Education on January 24 every year.
Responding to the official theme of UNESCO's 2021 International Day of Education, China Celebration will draw attention on Education Equality and Sustainable Development in the Post-Pandemic Era with a focus on the commitments for educational inclusiveness. The event seeks to establish a platform for dialogue to identify key issues and lessons learned, share experiences in responding to the major educational crisis, enact long-term plans that tackle negative impacts of the COVID-19 pandemic to the society, as well as those measures to recover and revitalize education.