[Opinion] Promoting ecological civilization the key to balance with nature
Article source: China Daily | Author: WANG Hongxin | Release date: 2021-07-05 | Clicks: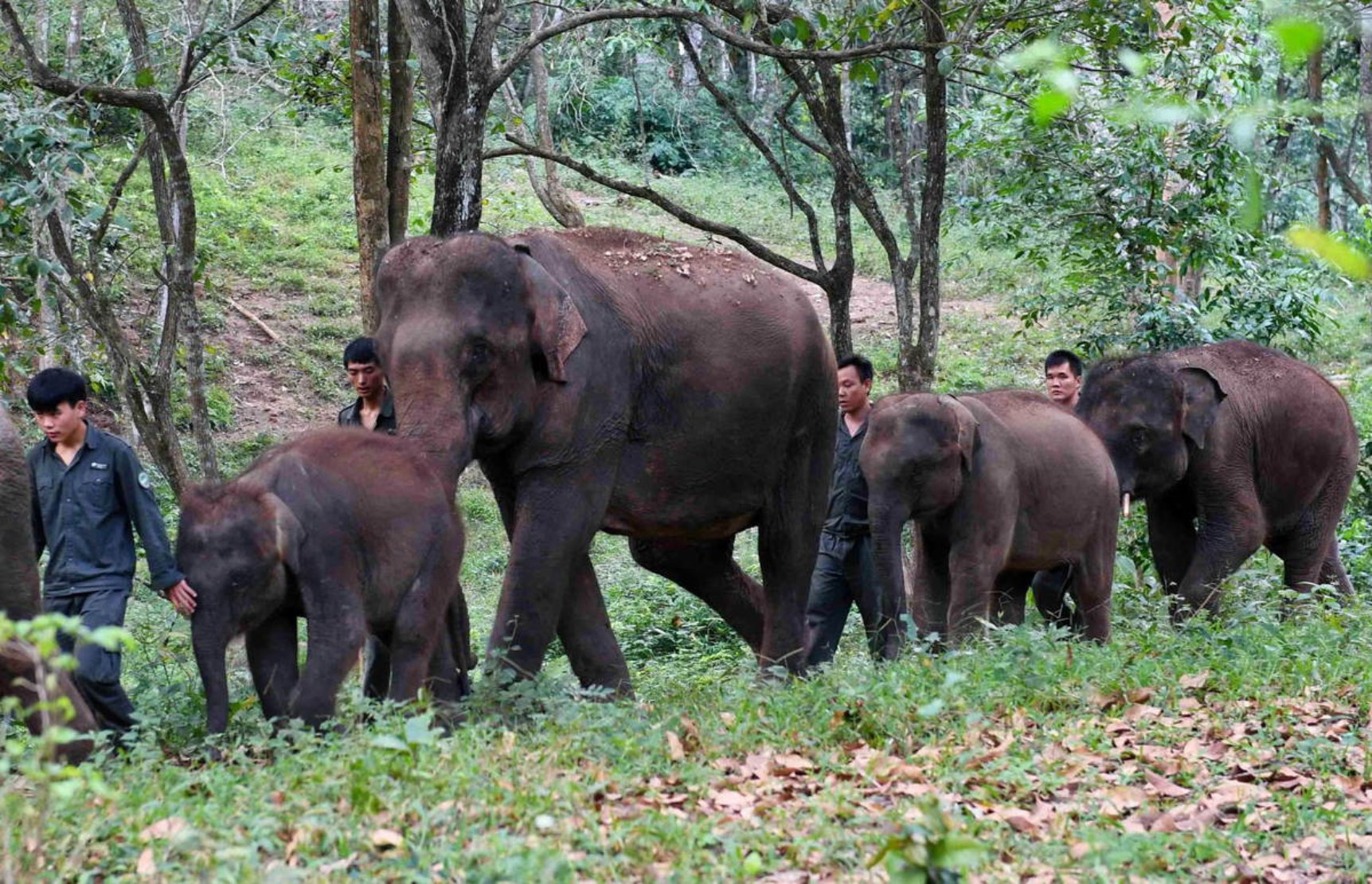 Professional workers guide Asian elephants in a rewilding training session at a major rescue and breeding center in Xishuangbanna, Yunnan province, in November, 2019. [Photo/Xinhua]
Last year, I travelled to Yunnan province twice for field research, exploring ways to reduce or even resolve conflicts between humans and elephants by launching pilot projects to "return land to wilderness".
On the first trip in June last year, I visited Jiangcheng Hani and Yi autonomous county in Pu'er. The mountainous county borders Laos and Vietnam, and local residents have been disturbed by Asian elephants.
A small herd of the animals that passes through the county to mate with those from Laos has been dubbed "international elephants" by locals.
People joke that as soon as the elephants enter the county, they have the audacity to start eating crops and invade villages and homes looking for food, safe in the knowledge that no one will harm them.
Local officials and the public have made great efforts to protect the species.
A monitoring team follows the herds every day; a smartphone app sends real-time alerts of elephants approaching farmland and villages; and the local government has cooperated with insurance companies over compensation paid for damage caused by the animals. These measures have effectively prevented people hunting and killing elephants.
To try to strike a balance between humans and elephants, I decided to conduct in-depth research on this issue.
In August, on the second trip to Yunnan, my team exchanged ideas with experts and officials in Kunming, the provincial capital. We then returned to Pu'er and neighboring Xishuangbanna Dai autonomous prefecture.
In Jiangcheng county, the local government provided us with a forecast of the elephants' movements based on weather conditions, giving us a chance to follow a family of 18 of the animals at a distance of less than 100 meters.
We even witnessed a human-elephant conflict, when the herd, which was marching unhurriedly along country roads in rain and drizzle, entered cornfields and tucked into fresh crops.
A group of villagers on motorcycles, who had just returned from the town and had probably not seen the warning signal from the app on their phones, encountered the herd on a bend halfway up a hill. They hurriedly dropped their machines and ran for their lives down the hill.
Pork, which had been hanging from the motorcycles, was left scattered on the ground, while the elephants were intrigued by the machines, which were left in the middle of the road.
After the elephants left the area, the villagers returned to the scene and waited for insurance company representatives to arrive and assess the damage.
In Xishuangbanna, we visited an elephant monitoring center and an "elephant canteen", or food base, where the animals can go when there is a lack of seasonal food.
Roaming freely is commonplace among elephants in China. The right approach to ending conflicts between the animals and humans does not mean feeding the elephants crops grown on farmland, which would make them highly dependent on humans.
Neither should they become domesticated, which would obviously mean they were no longer wild and also that biodiversity conservation had failed, resulting in systematic ecological degradation and destruction.
The scientific response should be the vigorous promotion of ecological civilization. More attention should be paid to the ecological functions of land in the context of high-quality economic and social development, and to the continuous improvement of habitat quality.
More land can be returned to wilderness, allowing wildlife, including Asian elephants, to go back to their habitats. This can be achieved by continuous, high-quality development and by using farmland and land for construction more economically.
At the end of this human quest wilderness begins-orchestrating a beautiful symphony between humans and nature.
The writer is head of the Academy for Global Development at Beijing Normal University. The views expressed are not necessarily those of China Daily.
https://www.chinadaily.com.cn/a/202106/24/WS60d3cc64a31024ad0bacb160.html