Students Stage Musical to Honor a Late Composer
Article source: China Daily | Author: Chen Nan | Release date: 2019-07-08 | Clicks: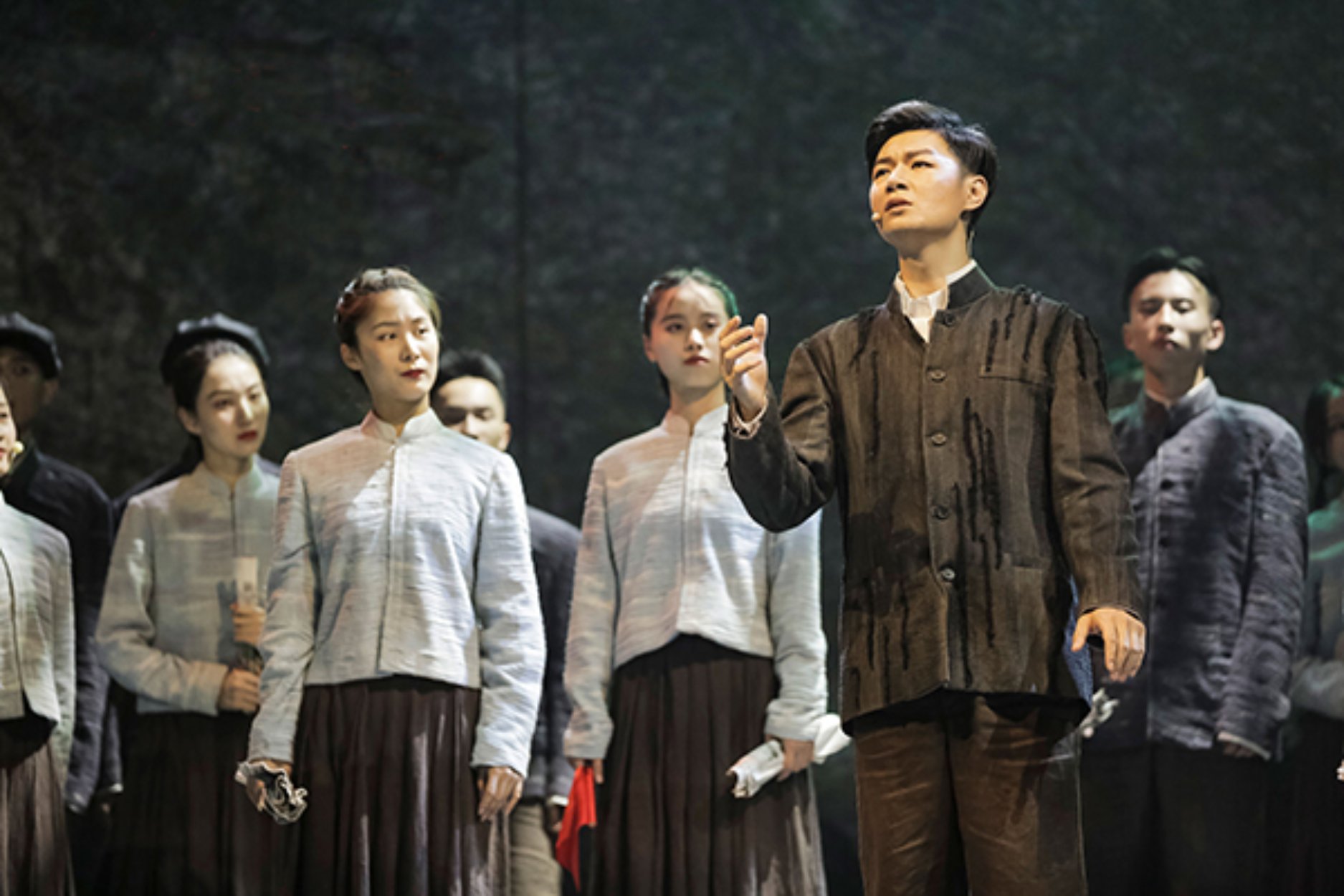 The Past Ballad, a musical that depicts the life of the late songwriter Wang Luobin (played by Yang Shengqin, second from right),
is being staged at Beijing Normal University's Beiguo Theater until July 17.[Photo provided to China Daily]
The story starts on the campus of Beijing Normal University in 1932, where a dozen students are reading books in Chinese and English.
Then, the tranquillity of the campus is shattered by war, and the story shifts to 1941 and the War of Resistance Against Japanese Aggression (1931-45).
Wang Luobin, then 28 years old, is taken to prison.
This is the beginning of the Chinese musical, The Past Ballad, which chronicles the life of Chinese composer Wang Luobin (1913-96), especially his youth.
The musical, which premiered at Beijing Normal University's Beiguo Theater on July 13 and ran for six shows until July 17, was staged by over 100 students and teachers from the university. They study or teach different majors and contributed to the musical in various respects, including acting, singing, building stage sets and designing costumes.
"Wang Luobin is a household name in China, and we decided to produce a musical based on his life because his music is still popular today, and he is a Beijing Normal University alumnus," says producer Yang Chenghu, who teaches at the university and is the assistant president of its School of Arts and Communication.
Preparations took about a year, according to director Xiao Xiangrong, a renowned dancer-choreographer and dean of the university's dance department.
"We not only adapted Wang Luobin's songs but also composed original songs for the musical," says Xiao, who was one of the directors and choreographers of the ceremonies of the Beijing Olympic Games in 2008.
"We also focused the story on Wang's youth and how those days inspired him musically.
"For the students who participated, it was a conversation between them and Wang Luobin as young people."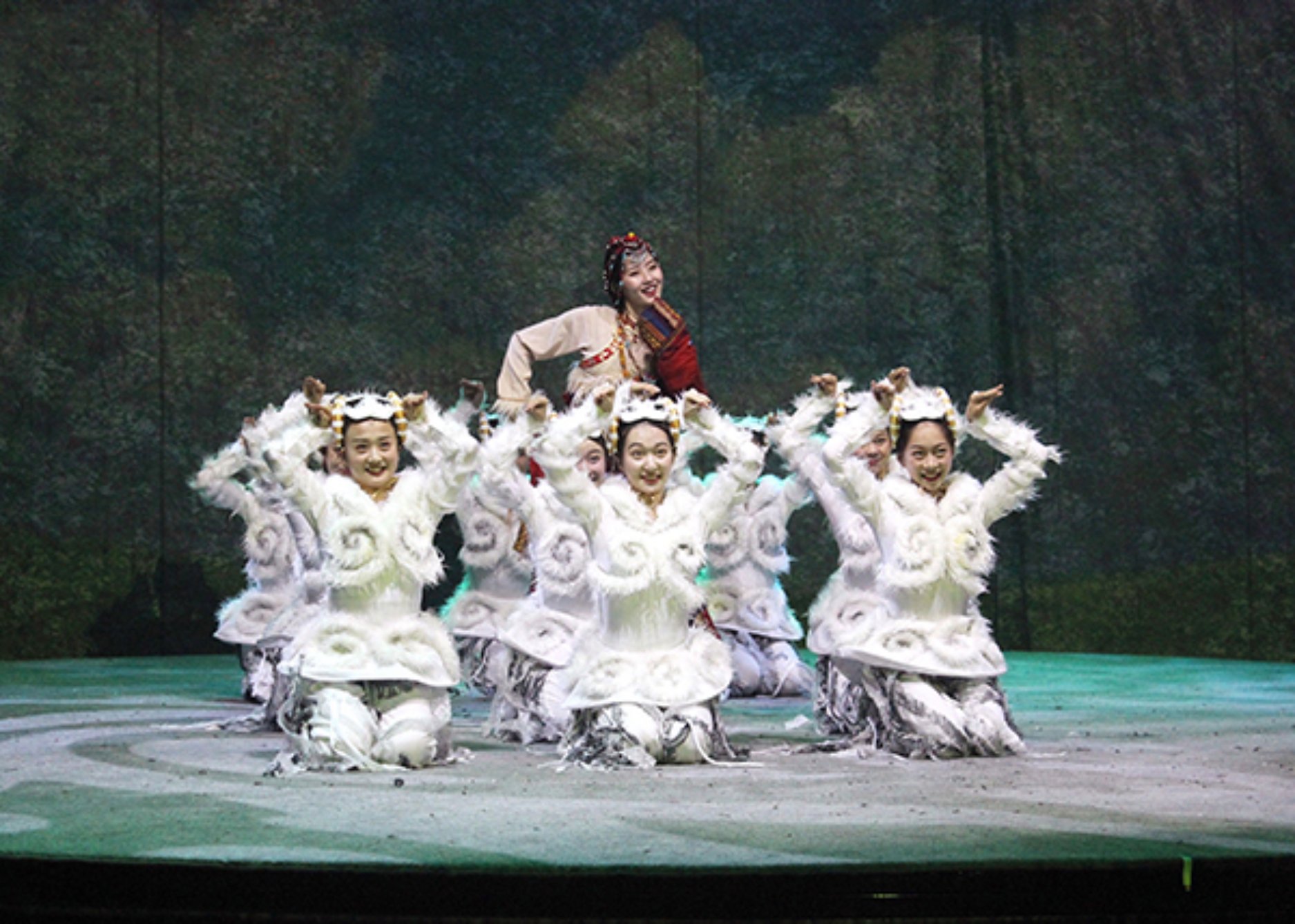 The Past Ballad, a musical that depicts the life of the late songwriter Wang Luobin (played by Yang Shengqin, second from right),
is being staged at Beijing Normal University's Beiguo Theater until July 17.[Photo provided to China Daily]
Xiao says that it was also a great opportunity for the youth to explore original Chinese folk music.
This sentiment is echoed by many of the student performers, including Yang Shengqin, who plays Wang in the musical.
"This is my first time to play a leading role in a musical. I was excited and challenged," says Yang Shengqin.
The 24-year-old Shenzhen native is pursuing his master's degree in music at Beijing Normal University. He started learning piano in high school and sang in school choirs from a young age. He came to Beijing at 18 years old to further his music studies.
He says he has enjoyed the well-known songwriter's music since he was young.
"My parents love his songs, and I've also been a fan," he says.
"I chose his song, A Lovely Rose, as one of my repertories in the audition for my university entrance exam."
Wang wrote A Lovely Rose in 1938. He adapted it from a Kazak folk song.
"Since many of the songs combine folk and ethnic music, I learned to dance with our university's dance majors, which was very interesting," Yang Shengqin says.
"The musical inspired me to further my studies as a musical performer, and it's my dream to become a professional after graduation."
Wang, who was born in Beijing, enrolled in Beijing Normal University in 1931 to study music with Russian and German teachers.
Though classically trained, Wang, who originally dreamed of pursuing music in Europe, fell in love with Chinese folk music after traveling to the country's northwest to study folk songs in 1938.
One of his best-known songs is At a Faraway Place, which Wang wrote in Qinghai province in 1939, while shooting a film near Qinghai Lake. The song was inspired by a beautiful Tibetan girl.
Wang continued writing songs while imprisoned in Lanzhou, Gansu province, in Northwest China from 1941 to '44 on suspicions he was a member of the Communist Party of China.
Wang returned to Qinghai and continued composing after he was released.
He wrote over 50 of his more than 1,000 songs in Qinghai.
Wang was also inspired by the music of the Xinjiang Uygur autonomous region and created such tunes as The Girl From Daban City and Raise Your Kerchief based on the area's traditions.
Two music museums have been built to commemorate Wang's works. One is in Turpan, Xinjiang, and the other is in the Haibei Tibetan autonomous prefecture in Qinghai.
The musical also borrows elements from hua'er, a folk genre from Qinghai that inspired many of his pieces.