Overseas Students Embrace the Holiday Atmosphere
Article source: China Daily | Release date 2018-12-31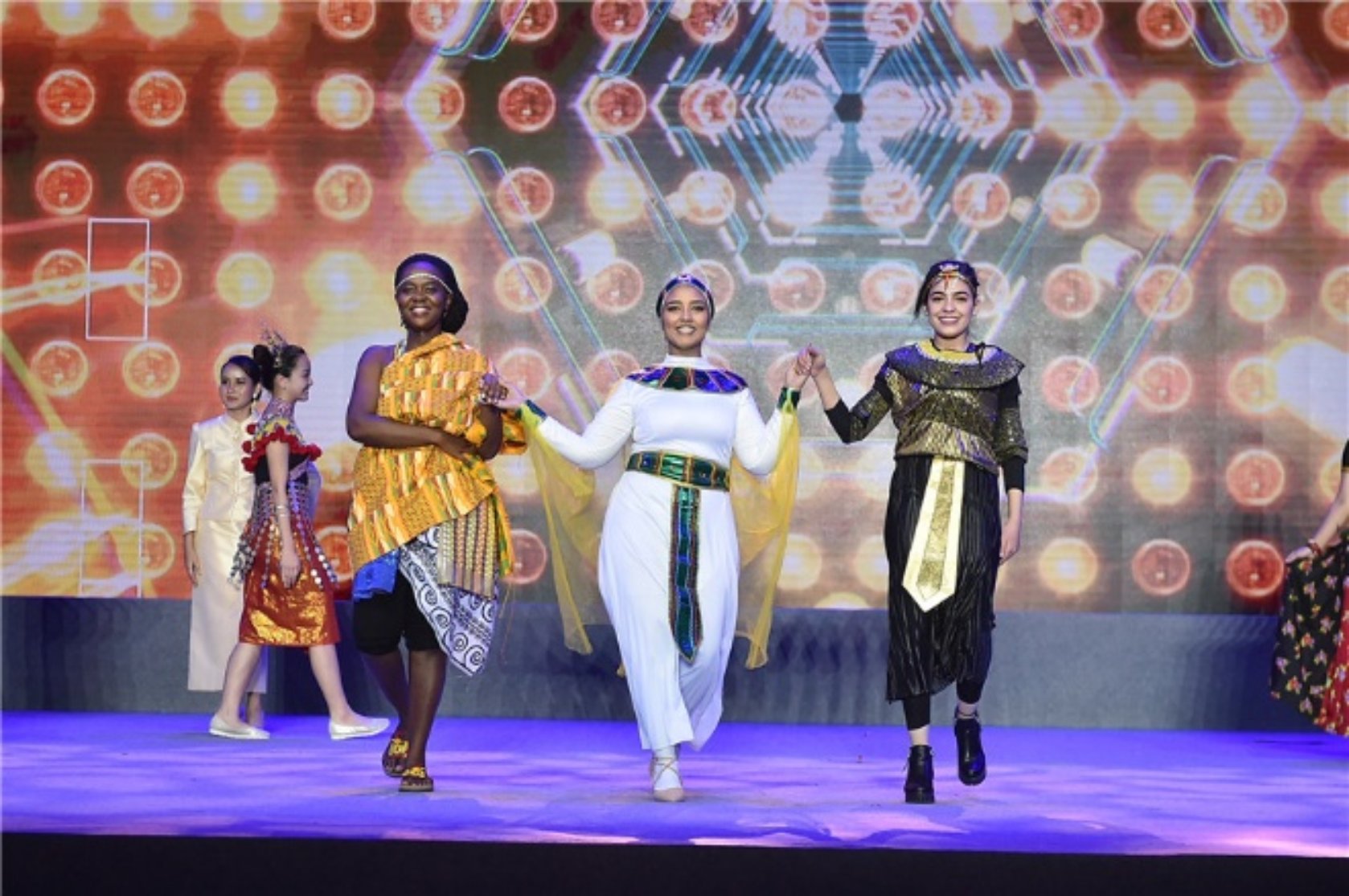 International students showcase dresses from their countries at a new year gala in Beijing.[Photo provided to China Daily]
International students who were unable to go home during the holidays celebrated the festive spirit of the season with glitzy performances at new year galas organized by schools.
The Beijing International Student's Night, an annual show launched by Beijing Normal University in 2010 to facilitate cultural exchanges and strengthen the bonds between Chinese and foreign students in Beijing, was held at the university's stadium recently, attracting more than 2,000 students.
Dances, choruses, musicals and other performances were staged by 24 Chinese students and 169 international students from 36 countries and regions including Russia, South Korea, Thailand, India, Uganda and France.
BNU, Beijing University of Chemical Technology, Beihang University, Tsinghua University, Central Academy of Fine Arts also sent their art troupes to the gala.
Mohammed ELmoiez Mohammed, 22, a freshman at BNU from Sudan was one of the hosts for the gala.
"It was a wonderful experience for me as a new student at the BNU to host one of the biggest shows held at the university, considering that it was my first experience of studying abroad which made it a more interesting and stressful experience at the same time," he said.
"It was tough to prepare for such a big show like this in such a short amount of time. But after standing on a big stage like this and receiving audience applause, I thought to myself that all the hard work has finally paid off."
There are some cultural differences between Sudan and China in terms of celebrating the New Year. But it was still an unforgettable experience of celebrating the holiday in China, he said.
Kehinde Bolu, 25, from Nigeria was another of the hosts for the gala night and a student at BNU, majoring in communication studies. Incidentally, both the hosts presented the program in Chinese.
"As a host, I prepared for five weeks remembering the rundown of the show. I also gave a drum performance and I prepared for it for less than a week because my drum arrived few days close to the show," he said.
"Showing what I've got anywhere has been a thing of joy to me. Just like last year, I put in my best for everything I showcased at the show. It was a great moment and I'm proud of myself."
Ahmad Jameel, 24, from Pakistan, has spent the New Year in China for three consecutive years. He is studying Chinese and English at BNU. "My new year experiences in China were amazing as they filled my life with surprises."
Last year, one of his Chinese friends invited him to his home for the new year celebrations. The train to his friend's hometown was full and he couldn't get a sleeper ticket.
"I ended up spending few hours in a very crowded carriage, However, everyone was really friendly and keen to share food and stories with me," he said. "Overall, my new year in China was an amazing experience I will never forget."